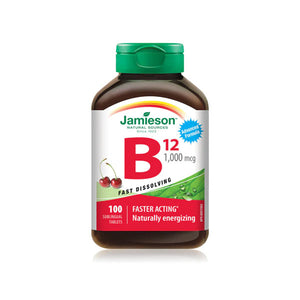 JAMIESON VITAMIN B12 1000 MCG 100 SUBLINGUAL TABLETS fast dissolving tablets are formulated exclusively with methylcobalamin, an advanced source of B12 that allows for faster absorption, so you can be naturally energized, faster!
HOW TO USE:
Adults: Dissolve one tablet daily on or under tongue. Store between 15ºC and 25ºC , away from children.
جاميسون فيتامين ب 12 1000 ميكروغرام 100 قرص تحت اللسان سريعة الذوبان مصنوعة حصريًا من methylcobalamin ، وهو مصدر متقدم لفيتامين B12 الذي يسمح بامتصاص أسرع ، بحيث يمكنك الحصول على الطاقة بشكل طبيعي ، بشكل أسرع!
طريقة الاستخدام:

البالغون: قم بإذابة قرص واحد يوميًا على اللسان أو أسفله. يحفظ في درجة حرارة بين 15 و 25 درجة مئوية بعيدا عن متناول الأطفال.