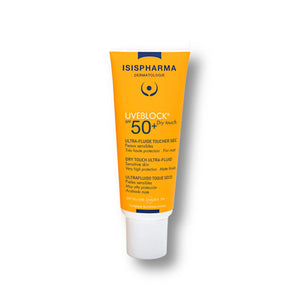 ISISPHARMA UVEBLOCK DRY TOUCH ULTRA FLUID SPF50+ 40ML SUNSTRESS PROTECT complex: thanks to an optimal combination of filters that minimise UV penetration and two specific active ingredients that will preserve and stimulate the skin's natural defense mechanisms, the SUNSTRESS PROTECT complex provides optimal protection against the main types of sunlight (UVA, UVB and infrared). Its non-comedogenic formula is suitable for the most oil-prone and sensitive skin. Excellent tolerance for all skin types is guaranteed. intensely protects while mattifying your skin.
HOW TO USE:
Apply this sun care to the face and neck 15 minutes before sun exposure.
Reapply frequently and after bathing, sports activity or rubbing.
ازيس دراي تتش فلود اس بي اف 50+ 40مل بفضل التركيبة المثلى من الفلاتر التي تقلل من اختراق الأشعة فوق البنفسجية واثنين من المكونات النشطة المحددة التي تحافظ على آليات الدفاع الطبيعية للبشرة وتحفزها ، يوفر مجمع SUNSTRESS PROTECT الحماية المثلى ضد الأنواع الرئيسية لأشعة الشمس (UVA و UVB والأشعة تحت الحمراء ). بفضل مركب SUNSTRESS PROTECT المبتكر ، تستفيد بشرتك من حماية خلوية واسعة النطاق. 
تركيبته لا تسبب ظهور الحبوب مناسبة للبشرة الدهنية والحساسة. ممتاز لجميع أنواع البشرة. يحمي بشكل مكثف بينما يزيل لمعان بشرتك.
طريقة الاستخدام:
ضعي هذا المستحضر على الوجه والرقبة قبل 15 دقيقة من التعرض للشمس.
كرري وضعه بشكل متكرر بعد الاستحمام أو ممارسة النشاط الرياضي أو الفرك.