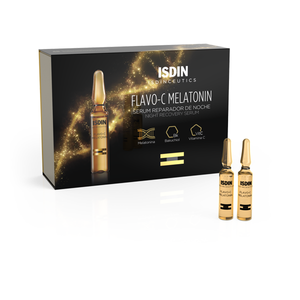 ISDIN ISDINCEUTICS FLAVO-C NIGHT RECOVERY SERUM 2ML*10 is a repairing night serum that helps the skin to recover its ability to fight free radicals. In fact, a research by the ISDIN labs has demonstrated that this product is able to help restore the skin's expression of antioxidants, fighting free radicals and, therefore, prevent environmental aging signs.
All of these benefits are possible thanks to a powerful formula that blends multiple active ingredients. On one side, Vitamin C and other Antioxidants boosts the skin's defences against oxidative stress, improving the levels of radiance simultaneously. Furthermore, the presence of Bakuchiol ensures an anti-aging action that recovers levels of elasticity and firmness.
As a result, 100% of users report that the skin is more hydrated, while 96% claim that the skin looks brighter and more radiant. At the same time, 94% state that the skin looks recovered and 88% declared that the skin is more rested.
HOW TO USE:
Shake well before use. Use ISDINCEUTICS Flavo-C Night Recovery Serum as part of your regular evening routine. Apply it on the clean and dry skin of the face, neck and chest, before your selected moisturizer.
أمبولات إزدن فلافو-سي ميلاتونين سيروم الاصلاح الليلي هو سيروم ليلي مرمم يساعد البشرة على استعادة قدرتها على محاربة الجذور الحرة. في الواقع ، أظهر بحث أجرته مختبرات ازدن أن هذا المنتج قادر على المساعدة في استعادة تعبير الجلد عن مضادات الأكسدة ، ومحاربة الجذور الحرة ، وبالتالي منع علامات الشيخوخة البيئية. كل هذه الفوائد ممكنة بفضل التركيبة القوية التي تمزج بين العديد من المكونات النشطة. من ناحية ، يعزز فيتامين سي ومضادات الأكسدة الأخرى دفاعات البشرة ضد الإجهاد التأكسدي ، مما يحسن مستويات الإشراق في نفس الوقت. علاوة على ذلك ، فإن وجود باكوتشيول يضمن مفعولًا مضادًا للشيخوخة يستعيد مستويات المرونة والصلابة. نتيجة لذلك ، أفاد 100٪ من المستخدمين أن البشرة أصبحت أكثر ترطيبًا ، بينما يزعم 96٪ أن البشرة تبدو أكثر إشراقًا. في الوقت نفسه ، ذكر 94٪ أن الجلد قد تعافى و 88٪ صرح بأن الجلد أكثر راحة.
طريقة الاستخدام:
يُرج جيداً قبل الاستخدام. استخدمي أمبولات إزدن فلافو-سي نايت كجزء من روتينك المسائي المعتاد. ضعيه على بشرة الوجه والعنق والصدر النظيفة والجافة قبل المرطب الذي اخترته.