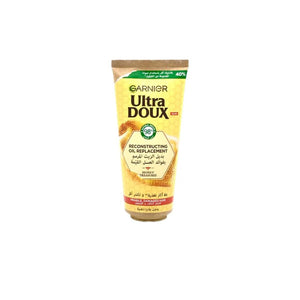 Garnier Ultra Doux Reconstructing Oil Replacement Honey Treasures 200ml repairing Royal Jelly known for its strengthening properties, protective propolis a natural sealant made by bees and nourishing honey known throughout the ages to leave hair light, soft and supple.
HOW TO USE:
Start by washing your hair with shampoo and conditioner as usual and rinse well.

 After washing the hair, dry it gently with a towel until it is damp but not completely wet.

 Take a small amount of Ultra Doux Nourishing Hair Oil and spread it gently on your hair. Make sure to distribute it evenly on the lengths and ends.

 Gently massage the scalp and hair roots to ensure the oil is well absorbed.

You can leave it on your hair without rinsing it, or you can leave it for a few hours before washing it with lukewarm water.
Results:
Better nourishment and repair from roots to ends, your hair becomes soft to the touch and easier to manage.
جارنيه الترا دوكس بديل الزيت بالعسل 200مل غذاء ملكات النحل المرمم المعروف بخصائصه المقوية، والعكبر الوقائي، وهو مادة مانعة للتسرب مصنوعة من النحل، والعسل المغذي المعروف على مر العصور بأنه يترك الشعر خفيفًا وناعمًا ولينًا.
طريقة الاستخدام:
- ابدأي بغسل شعرك بالشامبو والبلسم كالمعتاد واشطفيهما جيدًا.
- بعد غسل الشعر، جففيه بلطف بمنشفة حتى يكون رطبًا وليس مبللاً بشكل كامل.
- خذي كمية صغيرة من زيت الشعر المغذي Ultra Doux وافرديه بلطف على شعرك. تأكدي من توزيعه بشكل متساوي على الأطوال والأطراف.
-  قومي بتدليك فروة الرأس وجذور الشعر بلطف لضمان امتصاص الزيت بشكل جيد.
- يمكنك ترك على شعرك دون شطفه، أو يمكنك تركه لبضع ساعات قبل غسله بالماء الفاتر.
النتائج:
تغذية وإصلاح أفضل من الجذور إلى الأطراف، يصبح شعرك ناعم الملمس وأسهل في التحكم به.