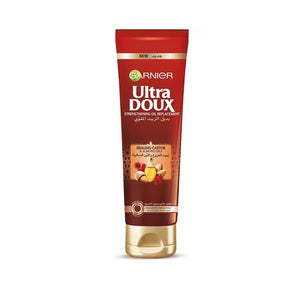 GARNIER ULTRA DOUX HEALING CASTOR & ALMOND OILS REPLACEMENT 300ML  Formulated Without Paraben & No Weigh Down: our recipe's melting texture turns into a rich, delightfully perfumed experience that strengthens weak hair with a tendency to fall.
Directions for use: Our oil replacement can be used in a number of ways! 1. Before bath: apply a generous amount on dry hair. Leave it on as long as you wish then shampoo it. 2. During bath: apply on shampooed hair, then rinse. 3. After bath: apply starting from the tips and continuing along the lengths. On wet hair, apply a small amount before blow drying.
Result: Your hair is intensely nourished and strengthened from roots to tips. You hair will also feel stronger and smooth to touch. Wash after wash, your hair becomes stronger, healthier, and full of life, with no weigh down at all
جارنيه الترا دوكس هيلنج كاستور & الموند اويلز ريبليسمنت تجربة غنية ومعطرة بشكل مبهج يقوي الشعر الضعيف والمائل إلى التساقط
إرشادات الاستخدام: يمكن استخدام بديل الزيت الخاص بنا بعدة طرق! 1. قبل الاستحمام: ضعي كمية وفيرة على الشعر الجاف. اتركيه كما تشائين ثم اغسليه بالشامبو. 2. أثناء الاستحمام: ضعيه على الشعر بعد غسله بالشامبو ثم اشطفيه. 3. بعد الاستحمام: ضعيه بدءاً من الأطراف واستمري على طول الشعر. على الشعر المبلل ، ضعي كمية قليلة قبل التجفيف بالمجفف.
النتيجة: يتم تغذية شعرك بشكل مكثف وتقويته من الجذور إلى الأطراف. سيشعر شعرك أيضًا بأنه أقوى وأكثر نعومة للمس. غسل بعد غسل ، يصبح شعرك أقوى وأكثر صحة ومليئًا بالحياة