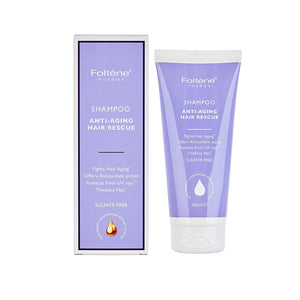 Foltene Fp Anti-aging Hair Rescue Shampoo acts as a shield for your hair, protecting it from environmental stress and nourishing your hair from within. It has anti-aging benefits as it contains DN-AGE which helps in increasing the density of your hair. This unique shampoo contains olive oil whose properties effectively protect against harmful UV rays. This shampoo provides hydration and softness to your hair. It is free from sulfate, mineral oil, silicon, and paraffin wax.
HOW TO USE :
Apply to wet hair and massage gently and rinse thoroughly. Repeat if necessary. The gentle formula is ideal for frequent use for all hair types.
فولتين شامبو لحماية الشعر من التلف يعمل كدرع لشعرك، ويحميه من الضغوط البيئية ويغذي شعرك من الداخل. له فوائد مضادة للشيخوخة لأنه يحتوي على DN-AGE الذي يساعد في زيادة كثافة شعرك. يحتوي هذا الشامبو الفريد على زيت الزيتون الذي تحمي خصائصه بشكل فعال من الأشعة فوق البنفسجية الضارة. يوفر هذا الشامبو الترطيب والنعومة لشعرك. وهو خالي من الكبريتات والزيوت المعدنية والسيليكون وشمع البارافين.
طريقة الاستخدام :
ضعيه على الشعر المبلل ودلكي بلطف ثم اشطفيه بالكامل. كرر إذا لزم الأمر. التركيبة اللطيفة مثالية للاستخدام المتكرر لجميع أنواع الشعر.