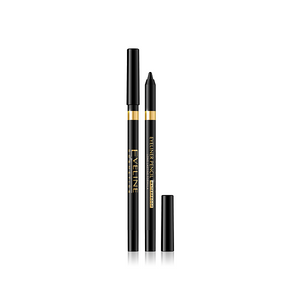 EVELINE EYELINER PENCIL WATERPROOF LONG LASTING is a waterproof eyeliner pencil with modern, exceptionally durable, gel formula contains highly concentrated pigments composition giving intensive colour on the eyelid.
-Exceptionally delicate and easy to apply allows to obtain perfect line just with one stroke.
Quickly hardens, does not smear and does not leave mark on the eyelid.
قلم ايلاينر ايفلاين ووتر بروف طويل الامد هو قلم كحل مقاوم للماء بتركيبة جل حديثة متينة للغاية تحتوي على أصباغ مركزة للغاية تعطي لونًا كثيفًا على الجفن.
-قلم رفيع وسهل التطبيق يسمح بالحصول على خط مثالي بضربة واحدة فقط. يثبت بسرعة ولا يلطخ ولا يترك أثرًا على الجفن.
EVELINE EYELINER PENCIL WATERPROOF LONG LASTING