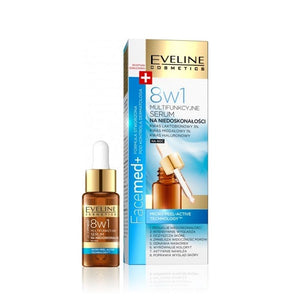 EVELINE 8IN1 MULTI FUNCTION SERUM AGAINST IMPERFECTIONS 18ML is one of MICRO-PEEL-ACTIVE TECHNOLOGY™
8 in 1 products 
Benefits :
1. REDUCES IMPERFECTIONS
2. INTENSELY SMOOTHES
3. PURIFIES SKIN
4. REDUCES VISIBILITY OF PORES
5. RESTORES EPIDERMIS
6. EVENS SKIN TONE
7. ACTIVELY MOISTURISES
8. IMPROVES SKIN LOOK
-suitable for all skin types
Ingredients:
1-3% lactobionic acid 
2- 1% mandelic acid
3- Hyaluronic acid intensely smoothes and actively moisturises
 How to use:
In the evening apply the serum onto cleansed and dry face skin, avoiding eyes and lips area. Once absorbed apply a care cream.
-It is recommended to use the product at NIGHT
-Depending on skin tolerance, apply 2-3 times a week
-It is recommended to use protective cream with sunscreen.
سيروم ايفلاين 8 في 1 ضد العيوب احد اجدد اصدارات السيرومات الاوروبية للبشرة المتعبة الي تعاني من عيوب وتصبغات ولون غير موحد للبشرة والمسامات الواسعة
سيروم يعمل تقشير للخلايا الميته كخطوة اولى بدون تحسس او احمرار ويساعد على تجديد خلايا البشرة لتعود كبشرة الاطفال
 : فوائده
اخفاء عيوب البشرة وتصبغاتها (الرؤوس السوداء والبيضاء التصبغات البقع الداكنة)-
ترطيب عالي مع فوائد الهالورونيك اسيد-
تنقية البشرة من الاوساخ والسموم-
اخفاء المسامات الواسعه منتج مناسب لاصحاب البشرة الدهنية والمختلطة -

ليس له أي اثر دهني-
تجديد خلايا البشرة واعطائها مرونة-
توحيد لون البشرة-
اعطاء نضارة للبشرة-
المكونات الفعالة :
1- 3% حمض اللاكتوبيونيك
2- 1٪ حمض المندليك
3- حمض الهيالورونيك يرطب بشكل مكثف 
     : طريقة الاستخدام
-في المساء ، يوضع السيروم على بشرة وجه نظيفة وجافة ، مع تجنب منطقة العينين والشفتين. بمجرد امتصاصه ، ضع كريم المرطب الخاص ببشرتك للحصول على نتائج سريعة من أول اسبوع
يوصى باستخدام واقي الشمس خلال فترة استعماله-
مناسب لجميع انواع البشرة-