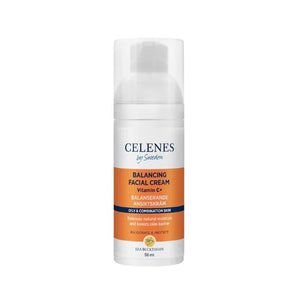 CELENES SEA BUCKTHORN BALANCING FACIAL CREAM 50ML with its special herbal formula developed for oily and combination skin, it moisturizes the skin and prevents shine. It supports the production of collagen, increasing the elasticity and repair of the skin. Thanks to Sea Buckthorn, it has an antioxidant effect.
It nourishes the skin with vitamins C and B. It does not contain paraben, alcohol and mineral oil.
HOW TO USE
Gently apply to cleansed face twice a day, morning and evening
سيلنس سي باكثورن بالنسينج فيشل كريم 50مل بتركيبته العشبية الخاصة المطورة للبشرة الدهنية والمختلطة ، يرطب البشرة ويمنع لمعانها. يدعم إنتاج الكولاجين ، ويزيد من مرونة الجلد وإصلاحه. بفضل Sea Buckthorn ، له تأثير مضاد للأكسدة. يغذي البشرة بفيتامينات C و B ولا يحتوي على البارابين والكحول والزيوت المعدنية.
طريقة الاستخدام 
ضعيه برفق على وجه نظيف مرتين في اليوم ، صباحًا ومساءً