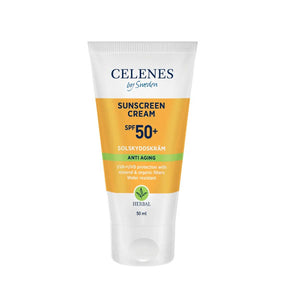 CELENES HERBAL ANTI AGING SUNSCREEN CREAM SPF 50+ 50 ML  which provides protection against UVA/UVB rays with its mineral and organic sun filters, supports cell regeneration thanks to the collagen peptides it contains.
By increasing the firmness and smoothness of the skin, it helps to provide a young, lively, plump skin.
It is suitable for use for all skin types.
Provides long-term protection.
It leaves no white marks.
It is water resistant.
It does not contain Paraben, Perfume and Alcohol. 
HOW TO USE : Apply evenly to the skin before sun exposure.
Renew the application after swimming, sweating and drying.
سيلنس هيربل انتي ايجنج سن سكرين كريم اس بي اف +50 50مل الذي يوفر الحماية ضد أشعة   مع مرشحاته المعدنية والعضوية للشمس ، ويدعم تجديد الخلايا بفضل ببتيدات الكولاجين التي يحتوي عليها. عن طريق زيادة شد ونعومة الجلد ، فإنه يساعد على توفير بشرة شابة وحيوية وممتلئة. مناسب لجميع أنواع البشرة. يوفر حماية طويلة الأمد. لا يترك أي علامات بيضاء. إنه مقاوم للماء. لا يحتوي على البارابين والعطور والكحول
طريقة الاستخدام : يوضع بالتساوي على البشرة قبل التعرض للشمس. يجدد التطبيق بعد السباحة والتعرق والجفاف