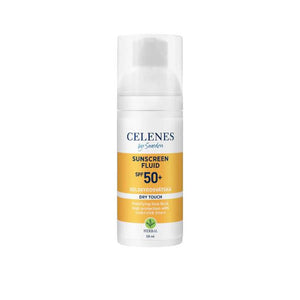 CELENES HERBAL DRY TOUCH SUNSCREEN FLUID SPF 50+ 50ML can be used safely by all skin types, including sensitive skin and all ages. With its mineral and organic sun filters, it provides full protection against UVA/UVB rays, prevents skin aging, sunspots and sunburns. Its light texture gives your skin a mattifying and non-shiny effect. It does not leave white marks, it is water resistant. Paraben free.
HOW TO USE 
Apply evenly to the face and neck area before going out in the sun.

 

Renew the application especially after swimming, sweating and drying.
سيلنس هيربل دراي تتش سن سكرين فلويد مع عامل حماية 50+ 50مل يستخدم لجميع أنواع البشرة ، بما في ذلك البشرة الحساسة وجميع الأعمار. بفضل مرشحاته المعدنية والعضوية من الشمس ، فإنه يوفر حماية كاملة ضد الأشعة فوق البنفسجية UVA / UVB ، ويمنع شيخوخة الجلد والبقع الشمسية وحروق الشمس. يمنح قوامه الخفيف بشرتك تأثيرًا غير لامع وغير لامع. لا يترك علامات بيضاء ، فهو مقاوم للماء. خالي من بارابين 
طريقة الاستخدام 
ضعيه بالتساوي على الوجه والرقبة قبل الخروج في الشمس. جدد التطبيق خاصة بعد السباحة والتعرق والجفاف.