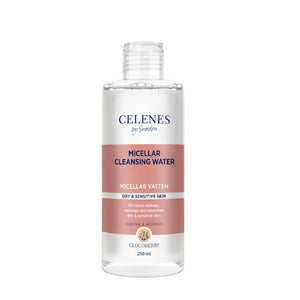 CELENES CLOUDBERRY MICELLAR WATER 250ML 
Micellar Cleansing Water cleans and softens make-up and skin in one step. The soothing effect of Cloudberry and the Bisabolol in its content gently cleanse the sensitive skin of make-up and dirt. Paraben and alcohol free.
HOW TO USE
Gently remove your skin and eye make-up by pouring Micellar Cleansing Water on a piece of cotton.

 

Does not require rinsing, suitable for daily use.
سيلنس كلود بيري ميسيلار وتر 250مل ماء الميسيلار المنظف يعمل على تنظيالمكياج والجلد في خطوة واحدة. التأثير المهدئ لـ Cloudberry و Bisabolol في محتواه ينظف بلطف البشرة الحساسة من المكياج والأوساخ. لا يحتوي على البارابين والكحول.
طريقة الاسخدام 
قومي بإزالة مكياج البشرة والعين برفق عن طريق سكب ماء ميسيلار المنظف على قطعة من القطن. لا يحتاج للشطف ، مناسب للإستخدام اليومي.