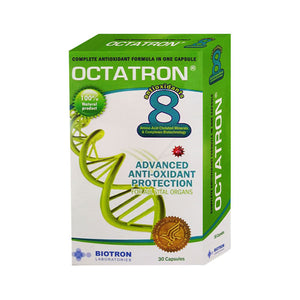 BIOTRON OCTATRON ADVANCED ANTIOXIDANT 30 CAPSULES is a Safe, gentle, well-tolerated and effective supplement. Contains zinc, selenium, molybdenum, biotin (natural vitamin B7) and mixed bioflavonoids. It has a synergistic effect, which is necessary for metabolism and also contains Vitamin E, Vitamin A and Vitamin C which works to raise immunity and maintain skin and hair health and physical ability suitable for different ages and pregnant women.
HOW TO USE:
Take 1-2 Capsules daily.
يعد بيوترون اوكتاترون 30 كبسولة مكملًا آمنًا ولطيفًا وفعالًا. يحتوي على الزنك والسيلينيوم والموليبدينوم والبيوتين (فيتامين B7 الطبيعي) والبيوفلافونويد المختلط. له تأثير تآزري ضروري لعملية التمثيل الغذائي ويحتوي أيضًا على فيتامين هـ وفيتامين أ وفيتامين ج الذي يعمل على رفع المناعة والحفاظ على صحة الجلد والشعر والقدرة البدنية المناسبة لمختلف الأعمار والنساء الحوامل.
طريقة الاستخدام:

تناول 1-2 كبسولة يوميًا.