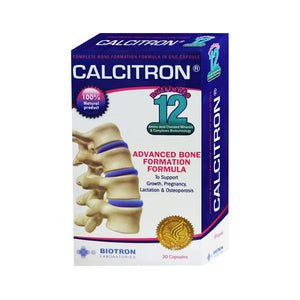 BIOTRON CALCITRON 30 CAPSULES is specially designed to treat bone problems and calcium deficiency in the body, and calcium is one of the most abundant minerals in the human body, which gives it the advantage to be one of the minerals necessary for the health of the body. It also helps pregnant women by giving the fetus adequate doses of calcium to grow better during pregnancy, and also works to prevent One of the risks of developing osteoporosis.
HOW TO USE:
Take 1-2 capsules daily.
تم تصميم كبسولات بيوترون كالسيترون 30 كبسولة خصيصًا لعلاج مشاكل العظام ونقص الكالسيوم في الجسم ، ويعتبر الكالسيوم من أكثر المعادن وفرة في جسم الإنسان مما يمنحه ميزة كونه أحد المعادن الضرورية لصحة الجسم . كما أنه يساعد المرأة الحامل بإعطاء الجنين جرعات كافية من الكالسيوم لينمو بشكل أفضل أثناء الحمل ، كما أنه يعمل على الوقاية من أحد مخاطر الإصابة بهشاشة العظام.
طريقة الاستخدام:
تناول 1-2 كبسولة يوميًا.