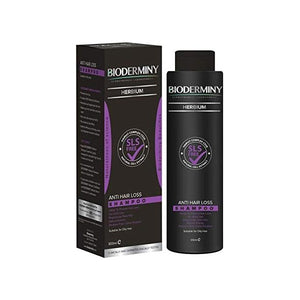 Bioderminy Herbium Antihairloss Shampoo-oily Hair 300Ml contains 100% natural cells. Energizes and renews hair. Makes your hair shiny and vibrant. PH in skin and neutral scalp is 5.5. Does not leave any side effects. Peace and effectiveness are proven by independent research institutes.
HOW TO USE:
Apply BIODERMINY Herbium Shampoo to wet hair (hair and sclap), gently massage the scalp with finger tips for 1 minute and rinse well. It is recomended to use BIODERMINY Herbium Shampoo daily on a regular basis to get earlier and better results use BIODERMINY Herbium Conditioner and BIODERMINY Herbium Serum Concentrate in combination.
بيوديرميني شامبو مضاد للتساقط للشعر الدهني 300مل يحتوي على خلايا طبيعية 100%. ينشط ويجدد الشعر. يجعل شعرك لامعاً وحيوياً. الرقم الهيدروجيني للبشرة وفروة الرأس المحايدة هو 5.5. لا يترك أي آثار جانبية. تم إثبات السلام والفعالية من خلال معاهد البحوث المستقلة.
طريقة الاستخدام:
ضعي شامبو بيوديرميني هيربيوم على الشعر المبلل (الشعر والصفع)، ثم دلكي فروة الرأس بلطف بأطراف الأصابع لمدة دقيقة واحدة ثم اشطفيه جيدًا. يوصى باستخدام شامبو بيوديرميني هيربيوم يوميًا بشكل منتظم للحصول على نتائج مبكرة وأفضل، استخدمي بلسم بيوديرميني هيربيوم ومصل بيوديرميني هيربيوم المركز معًا.