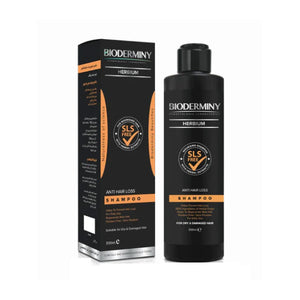 Bioderminy Herbium Antihairloss Shampoo-dry Hair 300Ml promotes haır growth and slows haır loss, this extra strength Herbal Extract shampoo nourishes the hair follicle from root to tip, folic Acid removes the dryness of the hair. Pantothenic Acid helps to restore hair roots and hair follicles, provides vitality, shine and volume to hair.
HOW TO USE:
Apply BIODERMINY Herbium Shampoo to wet hair, gently massage the scalp with finger tips for 1 minute and rinse well. It is recomended to use BIODERMINY Herbium Shampoo daily on a regular basis. To get earlier and better results use BIODERMINY Herbium Conditioner and BIODERMINY Herbium Serum Concentrate in combination.
بيوديرميني شامبو للشعر الجاف ومنع التساقط 300مل يعزز نمو الشعر ويبطئ تساقطه، هذا الشامبو العشبي ذو القوة الإضافية يغذي بصيلات الشعر من الجذور إلى الأطراف، ويزيل حمض الفوليك جفاف الشعر. يساعد حمض البانتوثنيك على استعادة جذور الشعر وبصيلات الشعر، ويوفر الحيوية واللمعان والحجم للشعر.
طريقة الاستخدام:
ضعي شامبو بيوديرميني هيربيوم على الشعر المبلل، ثم دلكي فروة الرأس بلطف بأطراف الأصابع لمدة دقيقة واحدة ثم اشطفيه جيدًا. يُنصح باستخدام شامبو بيوديرميني بالأعشاب يوميًا بشكل منتظم. للحصول على نتائج مبكرة وأفضل، استخدمي بلسم بيوديرميني هيربيوم ومصل بيوديرميني هيربيوم المركز معًا.