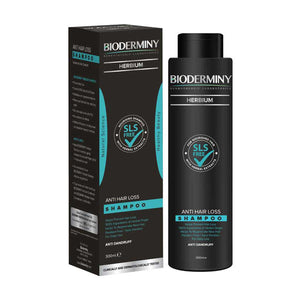 Bioderminy Herbium Antihairloss Shampoo-antidandruff 300Ml prevents hair loss. suitable for anti dandruff. Contains 100% Natural Cell Extract. Revitalizes and regenerates the hair. Makes your hair look fresh and shiny again. Skin and scalp neutral pH of 5.5 No undesired side effects Safety & efficacy is clinically proven by independent research institutes.
HOW TO USE:
Apply BIODERMINY Herbium Shampoo to wet hair, gently massage the scalp with fingertips for 1 minute and rinse well.
بيوديرمني شامبو مضاد للتساقط والقشرة 300مل  يمنع تساقط الشعر. مناسبة لمكافحة القشرة. يحتوي على مستخلص خلايا طبيعي 100%. ينشط ويجدد الشعر. يجعل شعرك يبدو منتعشاً ولامعاً من جديد. درجة حموضة محايدة للبشرة وفروة الرأس تبلغ 5.5. لا توجد آثار جانبية غير مرغوب فيها. تم إثبات السلامة والفعالية سريريًا من خلال معاهد الأبحاث المستقلة.
طريقة الاستخدام:
ضعي شامبو بيوديرميني هيربيوم على الشعر المبلل، ثم دلكي فروة الرأس بلطف بأطراف الأصابع لمدة دقيقة واحدة ثم اشطفيه جيدًا.