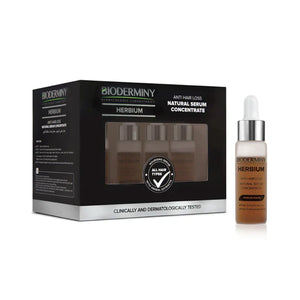 Bioderminy Herbium Antihairloss Serum Concentrate 5x20Ml  is producing methods that do not involve modern synthetic inputs such as synthetic prescribes and chemical fertilizers, do not contain geneticaly modified organisms and are not processed using irradiation, industrial solvents or chemical food additives. Anti Hair Loss Series uses 100% Organic extracts as active ingredients. Strengthens hair and helps Prevents hair loss helps to improve the hair production mechanism, leading to a healthy shine and manageable hair.
HOW TO USE:
Wash your hair with BIODERMINY HERBIUM Anti-Hair Loss Shampoo and towel dry.
Apply Anti-Hiar Loss Natural Serum Concentrate to the whole head, starting first with the scalp region where hair loss is seen and the surrounding area. Gently massage in a circular motion for at least one minute.
BIODERMINY HERBIUM Serum Concentrate should be used 1 or 2 dropper day and night. Should be kept on the hair for a minumum of 8 hours.
بيوديرميني سيروم مضاد لتساقط الشعر 5x20Ml هي طرق إنتاج لا تتضمن مدخلات تركيبية حديثة مثل الوصفات الطبية والأسمدة الكيماوية، ولا تحتوي على كائنات معدلة وراثيا ولا تتم معالجتها باستخدام التشعيع أو المذيبات الصناعية أو المضافات الغذائية الكيميائية. تستخدم سلسلة مكافحة تساقط الشعر مستخلصات عضوية 100% كمكونات نشطة. يقوي الشعر ويساعد على منع تساقط الشعر ويساعد على تحسين آلية إنتاج الشعر، مما يؤدي إلى لمعان صحي وشعر يمكن التحكم فيه.
طريقة الاستخدام:
اغسلي شعرك بشامبو بيوديرميني هيربيوم المضاد لتساقط الشعر وجففيه بالمنشفة.
ضعي المصل الطبيعي المضاد لتساقط الشعر على الرأس بالكامل، بدءًا من منطقة فروة الرأس التي يظهر فيها تساقط الشعر والمنطقة المحيطة بها. قم بالتدليك بلطف بحركة دائرية لمدة دقيقة واحدة على الأقل.
يجب استخدام مصل بيوديرميني هيربيوم المركز بمقدار 1 أو 2 قطارة ليلاً ونهارًا. يجب أن يبقى على الشعر لمدة لا تقل عن 8 ساعات.