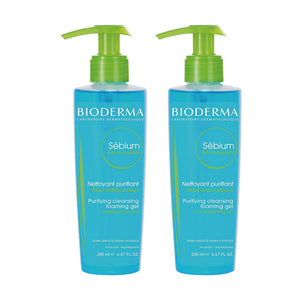 Bioderma Two Sebium Gel Moussant Purifying Cleansing Foaming Gel 200ml gently cleanses and purifies the skin without drying it : containing zinc sulphate and copper sulphate, it cleanses the epidermis, reduces the number of blemishes, and limits sebum secretion. Its ultra-gentle, soap free formula respects the skin's balance : the physiological pH is maintained. The patented natural complex raised the skin's tolerance threshold. For combination to oily skin.
HOW TO USE:
Apply on wet skin. Lather, massage gently then rinse thoroughly and dry gently.
غسول جل رغوي بيوديرما سيبيوم 200مل ينظف البشرة بلطف وينقيها دون تجفيفها، يحتوي على كبريتات الزنك وكبريتات النحاس ، وينظف البشرة ويقلل من عدد الشوائب ويحد من إفراز الدهون. تركيبته فائقة اللطف وخالية من الصابون تحترم توازن البشرة: يتم الحفاظ على درجة الحموضة الفسيولوجية. للبشرة المختلطة إلى الدهنية.
طريقة الاستخدام:
يوضع على بشرة مبللة. يُرغى ، يُدلك بلطف ثم يشطف جيداً ويُجفف برفق.
بجنن صبااايااا بنصحكم فيه