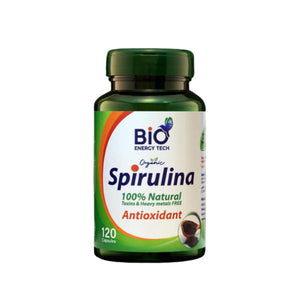 BIO ENERGY TECH ORGANIC SPIRULINA CAPSULES 100% pure Spirulina 500 MG, This blue-green algae contains 65% protein, all the essential amino acids and is packed with antioxidants, vitamins, minerals and phytonutrients. It is one of the most nutrient dense foods in the world which support overall good health.
HOW TO USE:
Adults : take 2-4 capsules daily before meals.
Children : take 1-2 capsules with meals.
بيو انيرجي تك كبسولات سبيرولينا عضوية علارة عن سبيرولينا نقية 500 ملغ ، تحتوي هذه الطحالب الخضراء المزرقة على 65٪ بروتين ، وجميع الأحماض الأمينية الأساسية ومليئة بمضادات الأكسدة والفيتامينات والمعادن والمغذيات النباتية. إنها واحدة من أكثر الأطعمة كثافة بالمغذيات في العالم والتي تدعم الصحة الجيدة بشكل عام.
طريقة الاستخدام:
للبالغين: 2-4 كبسولات يوميا قبل الاكل.
للأطفال: 1-2 كبسولة مع الوجبات.