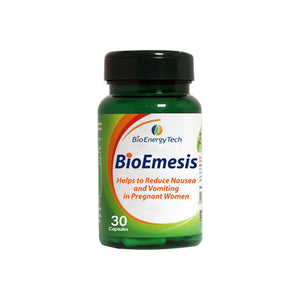 BIO ENERGY TECH BIO EMESIS GINGER ROOT AND VITAMIN B6 30 CAPSULES combining the positive effects of natural Ginger Root powder & Vitamin B6 that help control and reduce nausea and vomiting in pregnant women without causing any drowsiness effects.
HOW TO USE:
for pregnant women : one capsule daily with meal.
بيو انيرجي تك بيو ايميسز 30 كبسولة تجمع بين التأثيرات الإيجابية لمسحوق جذور الزنجبيل الطبيعي وفيتامين B6 الذي يساعد على التحكم في الغثيان والقيء وتقليله لدى النساء الحوامل دون التسبب في أي آثار نعاس.
طريقة الاستخدام:

للحوامل: كبسولة واحدة يومياً مع الوجبة.