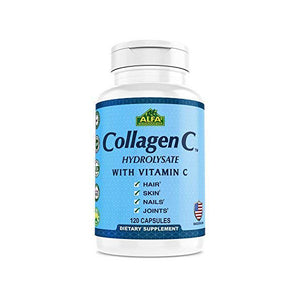 Alfa Collagen C Hydrolysate With Vitamin C 120 Cap Collagen is an important building block of your skin, bones, and lean muscles. Alfa Vitamins premium collagen hydrolysate affords your body the support it deserves by providing it with an extra supply of collagen, as well as vitamin C.
An immensely popular ingredient for many cosmetics and personal care products, collagen is also vital for skin, nail, and hair health, reversing premature aging and restoring your lost youthful shine.
By containing a generous amount of vitamin C (ascorbic acid), this nutritional supplement boosts the body's ability to naturally produce collagen. Plus, it's a powerful antioxidant with anti-aging effects!
Made in the USA
Gluten-Free
Non-GMO
Natural Source
Collagen Peptide - Bovine
Directions
Adults - take two (2) capsules daily, as a dietary supplement, preferably with a meal. Important: store tightly closed in a dry place at controlled room temperature of 59 degrees - 86 degrees F.
الفا كولاجين سي هيدروليزات مع فيتامين سي 120 كاب يوفر تحلل الكولاجين المتميز بفيتامينات fa جسمك الدعم الذي يستحقه من خلال تزويده بإمدادات إضافية من الكولاجين ، وكذلك فيتامين سي. يعتبر الكولاجين مكونًا شائعًا للغاية للعديد من مستحضرات التجميل ومنتجات العناية الشخصية ، كما أنه حيوي للبشرة والأظافر وصحة الشعر ، ويعكس الشيخوخة المبكرة ويعيد لمعان الشباب المفقود. من خلال احتوائه على كمية كبيرة من فيتامين سي (حمض الأسكوربيك) ، يعزز هذا المكمل الغذائي قدرة الجسم على إنتاج الكولاجين بشكل طبيعي. بالإضافة إلى ذلك ، فهو أحد مضادات الأكسدة القوية ذات التأثيرات المضادة للشيخوخة! صنع في الولايات المتحدة الأمريكية خالي من الغلوتين غير معدلة وراثيًا مصدر طبيعي كولاجين ببتيد - بقري
طريقة الاستخدام:
للبالغين: تناول كبسولتين (2) يوميًا كمكمل غذائي ويفضل مع إحدى الوجبات. هام: يُحفظ مغلقًا بإحكام في مكان جاف عند درجة حرارة الغرفة التي تسيطر عليها 59 درجة - 86 درجة فهرنهايت.