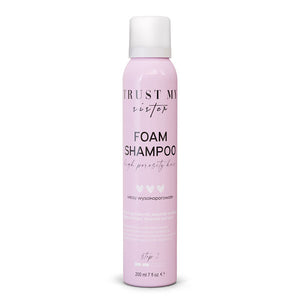 TRUST MY SISTER FOAM SHAMPOO HIGH POROSITY HAIR STEP 2 200ML it was created especially for the care of high porosity strands, as well as dull, dry and heavily damaged ones, it has an innovative foam formula based on the BAOBAB .

TEIN NPNF complex and nori algae extract and vitamins E and C. It gently cleanses the hair of all impurities cosmetic residues and excess sebum, and at the same time protects it with special protection it will make the strands not age so quickly, they will be strengthened, moisturized and nourished, and will not frizz. After applying, the hair is refreshed and the cracks shine
ترست ماي سيستر فوم شامبو هاي بوروسيتي هير ستيب2 200مل تم إنشاؤه خصيصًا للعناية بالشعر ذو المسامية العالية ، بالإضافة إلى الشعر الباهت والجاف والمتضرر بشدة ، وله تركيبة رغوة مبتكرة تعتمد على BAOBAB . مركب TEIN NPNF وخلاصة طحالب نوري وفيتامينات E و C. ينظف الشعر بلطف من جميع بقايا مستحضرات التجميل والدهون الزائدة ، وفي نفس الوقت يحميه بحماية خاصة سيجعل الشعر لا يتقدم في السن بسرعة ، سيكون كذلك مقوى ومرطب ومغذي ولا يتطاير. بعد التطبيق ، ينتعش الشعر ويتألق.