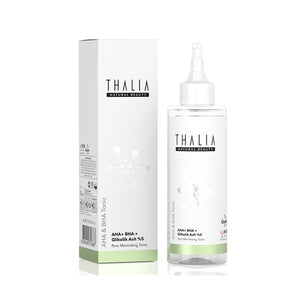 THALIA AHA & BHA EXFOLIATING & CLARIFYING TONER 200ML helps to gently cleanse the skin of dead skin, oil, dirt and make-up residues, reduce the appearance of pores and balance sebum secretion. The aha concentration in its content has a positive function in removing dead cells from the skin surface. By showing a gentle peeling effect, it contributes to the regeneration of the skin and to gain a better appearance. glycolic acid, on the other hand, penetrates the skin effectively and quickly, helping the skin to gain a smooth, soft and moist appearance. It is effective in protecting the skin against signs of aging by renewing it.
HOW TO USE:
At the end of the day, apply to your cleansed skin with the help of cotton. avoid contact with eyes.
ثاليا اي اتش اي & بي اتش اي اكسفلوتنج & كلاريفاينج تونر 200مل يساعد على تنظيف البشرة بلطف من الجلد الميت والزيوت والأوساخ وبقايا المكياج ، ويقلل من ظهور المسام ويوازن إفراز الدهون. تركيز آها في محتواه له وظيفة إيجابية في إزالة الخلايا الميتة من سطح الجلد. من خلال إظهار تأثير تقشير لطيف ، فإنه يساهم في تجديد الجلد والحصول على مظهر أفضل. من ناحية أخرى ، يتغلغل حمض الجليكوليك في الجلد بشكل فعال وسريع ، مما يساعد البشرة على اكتساب مظهر ناعم وناعم ورطب. إنه فعال في حماية البشرة من علامات الشيخوخة عن طريق تجديدها.
طريقة الاستخدام:
في نهاية اليوم ، ضعيه على بشرتك بعد تنظيفها باستخدام القطن. تجنب ملامسة العينين.