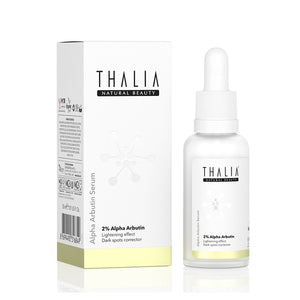 THALIA 2% ALPHA ARBUTIN LIGHTENING EFFECT DARK SPOT CORRECTOR SERUM 30ML helps to reduce the appearance of dark spots and lighten the skin tone. In daily use, it protects your skin from the harmful effects of the sun. Thalia arbutin serum whitens and brightens your skin with its 6 different plant extract complex. It helps to remove pregnancy spots, acne spots, age spots, sun spots.
HOW TO USE:
Apply a few drops to cleansed face and neck area. It is recommended to apply once a day, only at night. Then you can apply your Thalia moisturizing cream to your skin.
ثاليا 2% الفا اربتين سيروم 30مل يساعد على تقليل ظهور البقع الداكنة وتفتيح لون البشرة. في الاستخدام اليومي ، يحمي بشرتك من الآثار الضارة للشمس. يعمل مصل ثاليا أربوتين على تفتيح البشرة وإشراقها من خلال 6 مركبات مختلفة من مستخلصات النباتات. يساعد على إزالة بقع الحمل ، بقع حب الشباب ، بقع الشيخوخة ، بقع الشمس.
طريقة الاستخدام:
ضع بضع قطرات على الوجه والرقبة بعد تنظيفهما. من المستحسن التقديم مرة واحدة في اليوم ، فقط في الليل. ثم يمكنك وضع كريم ترطيب ثاليا على بشرتك.