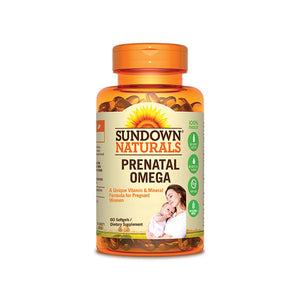 SUNDOWN PRENATAL OMEGA 60 CAPSULES is an advanced and distinctive formula for pregnancy and lactation because it contains 18 elements of vitamins and iron in addition to (EPA and DHA) Omega-3, which is essential for the proper mental, and visual development of the fetus.
Maintain the growth of your baby during pregnancy with "Omega Prenatal" capsules.
HOW TO USE:
Suggested Use For adult women: take one (1) softgel daily, preferably with a meal. As a reminder, discuss the supplements and medications you take with your health care providers.
سن داون أوميغا ما قبل الولادة 60 كبسولة هي تركيبة متطورة ومميزة للحمل والرضاعة لاحتوائها على 18 عنصرًا من الفيتامينات والحديد بالإضافة إلى (EPA و DHA) أوميغا 3 الضروري للنمو العقلي والبصري السليم للجنين . حافظي على نمو طفلك أثناء الحمل باستخدام كبسولات "أوميغا ما قبل الولادة".
طريقة الاستخدام:
الاستخدام المقترح للنساء البالغات: تناولي كبسولة هلامية واحدة (1) يوميًا ، ويفضل مع الوجبة. للتذكير ، ناقشي المكملات والأدوية التي تتناولينها مع مقدمي الرعاية الصحية.