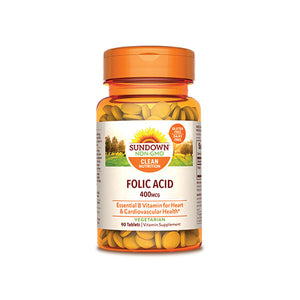 SUNDOWN FOLIC ACID 400 MCG 90 TABLETS is a vegetarian friendly way for women to get their daily dose of this essential B vitamin, especially throughout pregnancy , One tablet daily is all you need, and while our Folic Acid is especially important for pregnant women, everyone can benefit from the heart and cardiovascular support it provides.
HOW TO USE:

For adults: take one (1) tablet daily, preferably with a meal.
تعد أقراص سن داون فوليك اسيد 400 ميكروغرام 90 قرص طريقة صديقة للنباتيين للحصول على جرعتها اليومية من فيتامين ب الأساسي ، خاصة أثناء الحمل ، كل ما تحتاجينه هو قرص واحد يوميًا ، وبينما يعد حمض الفوليك مهمًا بشكل خاص للنساء الحوامل ، يمكن أن يستفيد باقي الأشخاص من دعم القلب والأوعية الدموية الذي يوفره.
طريقة الاستخدام:

للبالغين: قرص واحد (1) يوميًا ويفضل مع إحدى الوجبات.