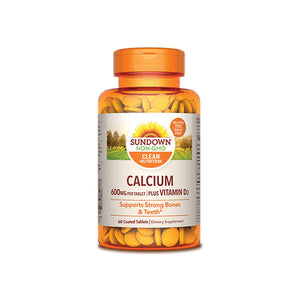 SUNDOWN CALCIUM 600 MG PLUS VITAMIN D3 60 TABLETS provides you with the nutritional support you need to help maintain strong, healthy bones. Calcium is the primary mineral responsible for strong bones, and Vitamin D aids with Calcium absorption. In addition to promoting bone health and density, Calcium also supports healthy muscle contractions and nerve function, while D3, a potent and active form of Vitamin D, assists with maintaining a healthy immune system.
HOW TO USE:

For adults: take two (2) tablets daily, preferably with a meal.
سن داون كالسيوم 600 مغ + فيتامين دال 60 قرص توفر لك الدعم الغذائي الذي تحتاجه للمساعدة في الحفاظ على عظام قوية وصحية. الكالسيوم هو المعدن الأساسي المسؤول عن عظام قوية ، وفيتامين د يساعد في امتصاص الكالسيوم. بالإضافة إلى تعزيز صحة العظام وكثافتها ، يدعم الكالسيوم أيضًا تقلصات العضلات الصحية ووظيفة الأعصاب ، بينما يساعد D3 ، وهو شكل قوي ونشط من فيتامين د ، في الحفاظ على نظام مناعة صحي.
طريقة الاستخدام:
للبالغين: تناول حبتين (2) يوميًا ويفضل مع الوجبة.