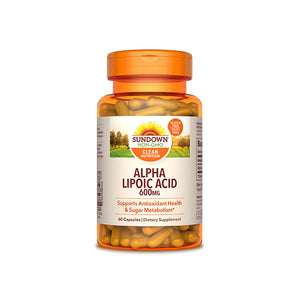 SUNDOWN ALPHA LIPOIC ACID 600 MG 60 CAPSULES
Helps support glucose metabolism for cellular energy. 
Helps regenerate antioxidants such as vitamin C, vitamin E and glutathione.
Helps support the body to buffer free radicals.
HOW TO USE:
For adults, take one (1) capsule daily, preferably with a meal.
سن داون الفا ليبويك أسيد 600 مغ 60 كبسولة يساعد في دعم استقلاب الجلوكوز من أجل الطاقة الخلوية. يساعد على تجديد مضادات الأكسدة مثل فيتامين ج وفيتامين هـ والجلوتاثيون. يساعد على دعم الجسم لدرء الجذور الحرة.
طريقة الاستخدام:
للبالغين : تناول كبسولة واحدة (1) يوميًا ويفضل مع إحدى الوجبات.