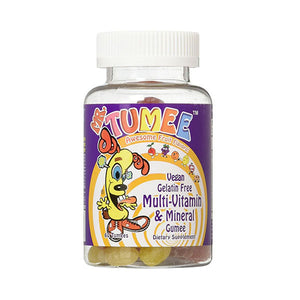 Mr.tumee Multivitamin & Mineral 60 Gummies is a unique multi-vitamin formula, which is sugar-free. It contains a combination of vitamins a, c, d, e, and b vitamins which are needed to support healthy growth and development for children.
Gelatin Free. Pectin Based. Certified Vegan/Vegetarian. Made with all natural flavors and colors. Free of wheat (gluten), milk, eggs, soy, tree nuts, peanuts, artificial flavors, animal derivatives and preservatives. Six delicious flavors (strawberry, lemon, orange, grape, cherry and grapefruit).
مستر تومي الفيتامينات والمعادن عبارة عن تركيبة فريدة من الفيتامينات المتعددة خالية من السكر. يحتوي على مزيج من فيتامينات A وC وD وE وB اللازمة لدعم النمو والتطور الصحي للأطفال. خالي من الجيلاتين. على أساس البكتين. نباتي معتمد. مصنوعة من جميع النكهات والألوان الطبيعية. خالي من القمح (الجلوتين)، الحليب، البيض، الصويا، المكسرات، الفول السوداني، النكهات الاصطناعية، المشتقات الحيوانية والمواد الحافظة. ستة نكهات لذيذة (الفراولة والليمون والبرتقال والعنب والكرز والجريب فروت).