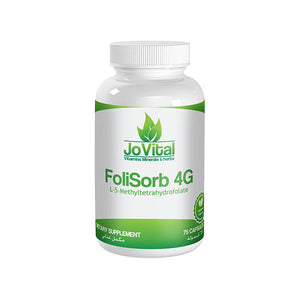 Jovital Folisorb 4g Folic Acid 75 Capsules is a Folic acid capsules in a special and unique formula, it enters the body in the final metabolite form to be ready for absorption. Can be used by everyone, especially for patients who have a problem in the enzyme which is responsible to transform the folic into folate.
HOW TO USE:
Take one (1) capsule per day preferably with meals.
جوفيتال فوليسورب 4G حمض الفوليك 75 كبسولة عبارة عن كبسولات حمض الفوليك بتركيبة خاصة وفريدة من نوعها، يدخل الجسم في شكل المستقلب النهائي ليكون جاهزًا للامتصاص. يمكن استخدامه من قبل الجميع، وخاصة المرضى الذين لديهم مشكلة في الإنزيم المسؤول عن تحويل الفوليك إلى فوليت.
طريقة الاستخدام:

تناول كبسولة واحدة (1) يوميًا ويفضل مع الوجبات.