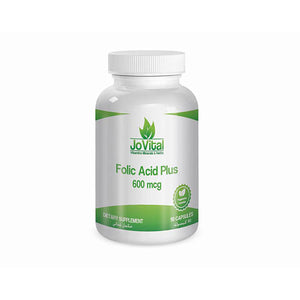 Jovital Folic Acid Plus 600 Mcg 90 Capsules is essential  for the prevention of fetal neurological abnormalities during pregnancy. the ideal time to take it is during planning to get pregnant to supply the body of the needed folic acid during pregnancy.
A distinctive and iron-fortified product.
HOW TO USE:
FOR PREGNANT: Take one (1) capsule per day preferably with meals.
جوفيتال حمض الفوليك بلس 600 ميكروجرام 90 كبسولة ضروري للوقاية من التشوهات العصبية للجنين أثناء الحمل. الوقت المثالي لتناوله هو أثناء التخطيط للحمل لتزويد الجسم بحمض الفوليك المطلوب أثناء الحمل. منتج مميز ومدعم بالحديد.
طريقة الاستخدام:
للحامل: تناول كبسولة واحدة (1) يوميًا ويفضل مع الوجبات.