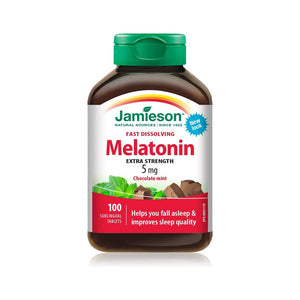 JAMIESON MELATONIN 5 MG FAST DISSOLVING 100 SUBLINGUAL TABLETS CHOCOLATE MINT help establish normal sleep patterns to give you a more restful, relaxing sleep. The quick dissolving formula helps to improve absorption and maximize effectiveness. It helps you fall asleep faster and stay asleep longer so you can wake up rested.
HOW TO USE:
Adults: Take 1 tablet at or before bedtime. Do not drive or use machinery for 5 hours after taking melatonin. Consult a healthcare practitioner for use beyond 1 month. For jet lag: For occasional short-term use, take once a day at bedtime after darkness has fallen while travelling, and at destination, until adapted to the new daily pattern. Store between 15°C and 25°C, away from children. Do not use this product if you are pregnant or breastfeeding.
جاميسون ميلاتونين 5 مغ أقراص تحت اللسان سريعة الذوبان 100 قرص بنكهة الشوكولاتة والنعناع يساعد على إنشاء أنماط نوم طبيعية لتمنحك نومًا أكثر راحة واسترخاء. تساعد تركيبة الذوبان السريع على تحسين الامتصاص وزيادة الفعالية. يساعدك على النوم بشكل أسرع والبقاء نائمًا لفترة أطول حتى تتمكن من الاستيقاظ مرتاحا.
طريقة الاستخدام:

للبالغين: تناول قرص واحد في موعد النوم أو قبله. لا تقود السيارة أو تستخدم الآلات لمدة 5 ساعات بعد تناول الميلاتونين. استشر ممارس رعاية صحية للاستخدام بعد شهر واحد. لاضطراب الرحلات الجوية الطويلة: للاستخدام على المدى القصير من حين لآخر ، خذ مرة واحدة يوميًا في وقت النوم بعد حلول الظلام أثناء السفر ، وفي الوجهة ، حتى تتكيف مع النمط اليومي الجديد. يحفظ في درجة حرارة بين 15 و 25 درجة مئوية ، بعيدًا عن متناول الأطفال. لا تستخدمي هذا المنتج في حالة الحمل أو الرضاعة.