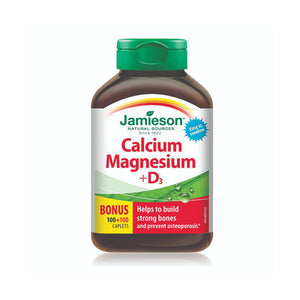 JAMIESON CALCIUM MAGNESIUM + VITAMIN D3 200 CAP is enhanced with vitamin D3 for optimal calcium absorption, this highly absorbable formula combines calcium and magnesium at the optimal 2:1 ratio ( Calcium (333 mg), Magnesium (167 mg) ) in order to support strong bones and healthy muscle function, and help reduce the risk of developing osteoporosis.
HOW TO USE:
Adults: Take 1 to 3 caplets daily with a meal. Take a few hours before or after taking other medications. Store between 15ºC and 25ºC, away from children.
جاميسون كالسيوم مغنيسيوم + فيتامين د 3، 200 كبسولة معززة بفيتامين D3 لامتصاص مثالي للكالسيوم ، هذه التركيبة عالية الامتصاص تجمع بين الكالسيوم والمغنيسيوم بنسبة 2: 1 المثلى (الكالسيوم (333 مجم) ، المغنيسيوم (167 مجم)) من أجل دعم عظام قوية ووظيفة عضلية صحية ، وتساعد على تقليل مخاطر الإصابة بهشاشة العظام.
طريقة الاستخدام:

للبالغين: تناول من 1 إلى 3 كبسولات يوميًا مع الوجبة. خذ بضع ساعات قبل أو بعد تناول الأدوية الأخرى. يحفظ في درجة حرارة بين 15 و 25 درجة مئوية بعيدا عن متناول الأطفال.