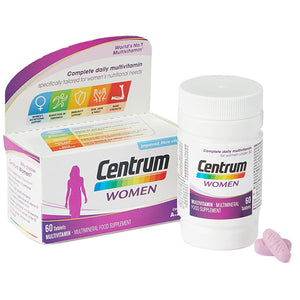 CENTRUM WOMEN MULTIVITAMINS AND DIETARY SUPPLEMENT 60 TABLETS is a daily women's multivitamin filled with essential nutrients to respond to your body's needs. Crafted with a combination of vitamins and minerals, specially tailored to women, to keep you feeling your best. Contains calcium which supports maintenance of normal bones as well as iron and folic acid which contribute to normal blood formation. Vitamins B6 & B12 aid a busy lifestyle by contributing to the reduction of tiredness and fatigue.


HOW TO USE:
For adult women, take 1 tablet per day with water.
سنتروم مكمل غذائي متعدد الفيتامينات للنساء 60 قرص عبارة عن فيتامينات نسائية يومية مليئة بالعناصر الغذائية الأساسية لتلبية احتياجات الجسم. مصنوع من مزيج من الفيتامينات والمعادن ، مصمم خصيصًا للنساء ، ليبقيك في أفضل حالاتك. 
يحتوي على الكالسيوم الذي يدعم صحة العظام وكذلك الحديد وحمض الفوليك اللذين يساهمان في تكوين الدم الطبيعي. تساعد الفيتامينات B6 و B12 في نمط الحياة المزدحم على المساهمة في تقليل التعب والإرهاق.
طريقة الاستخدام:
للنساء البالغات ، تناولي قرصًا واحدًا يوميًا مع الماء.
مريحة للاستخدام
استخدمت الحبوب لمدة 20 يوم تقريبا .. اول مرة بتستخدم هاي النوعية وما حسيت بأي اعراض جانبية .. ولازم الاستمرار حتى نعوض جسمنا من اي نقص في العناصر