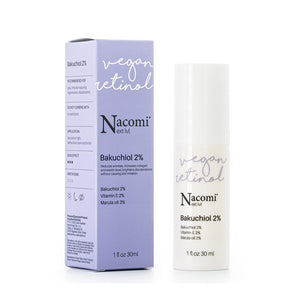 Nacomi Next Level Vegan Retinol Bakuchiol 2% Serum 30ml is a plant equivalent of retinol. Because of its gentle, natural formula, bakuchiol gently exfoliates the skin without causing irritation. The serum has a revitalizing effect, reduces wrinkles and evens out skin tone by lightening dark spots. Vegan friendly.
Gentle, plant-based formula

Does not cause irritations

Regulates sebaceous glands

 

Evens complexion

 

Stimulates collagen production

 

Vegan product
Bakuchiol effectively increases skin elasticity and inhibits bacterial proliferation to prevent imperfections. Sweet almond oil contained in the composition moisturises and firms the skin, while Marula oil reduces the emergence of acne lesions. Vitamin E shows antioxidant activity, fights free radicals, and additionally regenerates and stimulates skin cells.
HOW TO USE:
Apply a small amount to clean face and massage in gently. Apply morning and evening before using moisturiser.
ناكومي نيكس ليفيل فيغان راشينل باكوليجي 2% سيروم 30مل هو مكافئ نباتي للريتينول. بسبب تركيبته اللطيفة والطبيعية ، فإن الباكوتشيول يقشر البشرة بلطف دون التسبب في تهيجها. المصل له تأثير منشط ، ويقلل من التجاعيد ويوحد لون البشرة عن طريق تفتيح البقع الداكنة. مناسب للشخص النباتي. تركيبة نباتية لطيفة لا يسبب تهيج يحارب التجاعيد ينظم الغدد الدهنية يوحد البشرة يحفز إنتاج الكولاجين منتج نباتي يزيد الباكوتشيول بشكل فعال من مرونة الجلد ويمنع انتشار البكتيريا لمنع العيوب. زيت اللوز الحلو الموجود في التركيبة يرطب البشرة ويشدها ، بينما يقلل زيت المارولا من ظهور آفات حب الشباب. يُظهر فيتامين E نشاطًا مضادًا للأكسدة ، ويحارب الجذور الحرة ، بالإضافة إلى تجديد خلايا الجلد وتنشيطها.
طريقة الاستخدام:
ضعي كمية صغيرة لتنظيف الوجه والتدليك برفق. ضعيه في الصباح والمساء قبل استخدام المرطب.