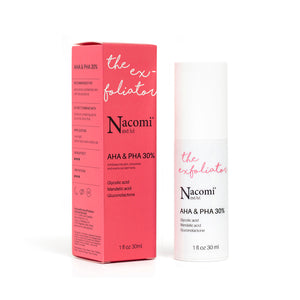 Nacomi Next Level The Exfoliator Aha & Pha Acid 30% Serum 30ml effectively exfoliates the stratum corneum, smoothes the skin, evens out its color and stimulates cell renewal, allowing you to enjoy a clean, smooth and radiant complexion.AHA acids (glycolic, citric, almond, lactic, tartaric) and PHA (lactobiotin, gluconolactone) enable in-depth exfoliation of dead epidermis, narrow pores and smooth the skin. They reduce discoloration, eczema, reduce fine wrinkles, have antibacterial properties and strengthen blood vessels.
HOW TO USE:
Use in the evening before applying the cream / oil apply a small amount of the preparation to the cleansed skin of the face, neck and décolleté.Gently massage in and leave for up to 10 minutes, then rinse off. Start using it by leaving it on for 3 minutes
ناكومي نيكس ليفل ذي ايكسفوليتور اي اتش اي & بي اتش اي اسيد 30% سيروم 30مل يقشر الطبقة القرنية بشكل فعال ، وينعم البشرة ، ويوحد لونها ويحفز تجديد الخلايا ، مما يسمح لك بالاستمتاع ببشرة نظيفة وناعمة ومشرقة. تعمل أحماض AHA (الجليكوليك ، والليمون ، واللوز ، واللبن ، والطرطريك) و PHA (اللاكتوبيوتين ، والجلوكونولاكتون) على تقشير البشرة الميت بعمق ، وتضييق المسام وتنعيم البشرة. إنها تقلل من تغير اللون والأكزيما وتقلل من التجاعيد الدقيقة ولها خصائص مضادة للبكتيريا وتقوي الأوعية الدموية.
طريقة الاستخدام:
استخدميه في المساء قبل وضع الكريم / الزيت ضع كمية صغيرة من المستحضر على بشرة الوجه والرقبة والمنظفات. دلكي بلطف واتركيه لمدة تصل إلى 10 دقائق ، ثم اشطفيه. ابدأ في استخدامه بتركه لمدة 3 دقائق