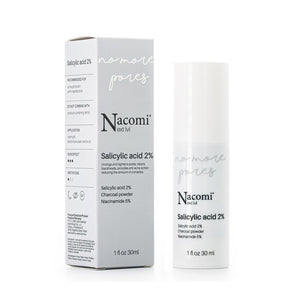 Nacomi Next Level No More Pores Salicylic Acid 2% Serum 30ml the care of combination, oily and acne-prone skins. The specially formulated serum effectively fights blemishes and dark spots, while smoothing skin and soothing inflammation.
 

Regulates sebum production

  

Prevents spots formation

         

Heals inflammations

         

Reduces discolourations

         

Unclogs pores
Salicylic acid combined with activated charcoal and Vitamin B3 brings excellent results in rebalancing oily or acne-prone skin. They clarify, moisturise and regenerate the skin.
HOW TO USE :
Apply a small amount to clean face and massage in gently in the evening. Do not rinse.
ناكومي نيكس ليفيل نو مور بوريس ساليسليك اسيد 2% سيروم 30مل العناية بالبشرة المختلطة والدهنية والمعرضة لحب الشباب. يعمل السيروم المصمم خصيصًا على محاربة البقع والبقع الداكنة بشكل فعال ، بينما يعمل على تنعيم البشرة وتهدئة الالتهابات. ينظم إنتاج الدهون يمنع تكون البقع يشفي الالتهابات يقلل من تغير اللون يفتح المسام حمض الساليسيليك مع الفحم النشط وفيتامين ب 3 يحقق نتائج ممتازة في إعادة التوازن للبشرة الدهنية أو المعرضة لحب الشباب. ينقي البشرة ويرطبها ويجددها.
طريقة الاستخدام:
ضعي كمية قليلة لتنظيف الوجه والتدليك برفق في المساء. لا تشطفه.