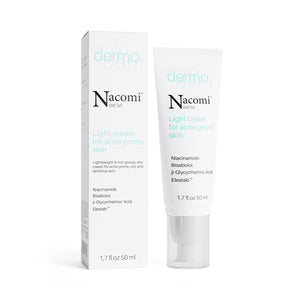 Nacomi Next Level Light Face Cream For Acne-prone Skin 50ml a moisturizing day cream with a light and non-greasy texture, intended for oily and sensitive skin prone to acne. It reduces the appearance of blackheads, in addition to containing antibacterial, niacinamide B3 and lactic acid.
HOW TO USE:
Apply to clean and dry skin 1-3 times a day, leave until completely absorbed.
ناكومي نكست ليفل لايت فيس كريم 50مل كريم نهاري مرطب بقوام خفيف وغير دهني ، مخصص للبشرة الدهنية والحساسة المعرضة لحب الشباب. يقلل من ظهور الرؤوس السوداء ، بالإضافة إلى احتوائه على مضاد للبكتيريا ، النياسيناميد B3 وحمض اللبنيك.
طريقة الاستخدام:
يوضع على بشرة نظيفة وجافة 1-3 مرات في اليوم ، ويترك حتى يمتص بالكامل.