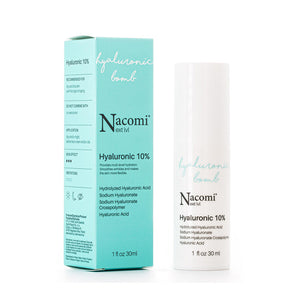 Nacomi Next Level Hialuronic Bomb Hialuronic 10% Serum 30ml the formula is enriched with OptimHyal™ to give your skin elasticity and smoothness.
         

Smooths lines

         

Moisturises

         

Gives elasticity
Hyaluronic acid supports the formation of collagen fibres, protects the skin from external factors and deeply moisturises it. Glycerine gives smoothness, regenerates and prevents moisture loss.
HOW TO USE:
Apply a small amount to clean face and massage in gently. Do not rinse. Apply morning and evening.
ناكومي نيكس ليفيل هايلورنيك بومب هايلورنيك 10% سيروم 30مل  التركيبة غنية بـ OptimHyal ™ لمنح بشرتك نعومة ومرونة. ينعم الخطوط يرطب يعطي مرونة يدعم حمض الهيالورونيك تكوين ألياف الكولاجين ويحمي البشرة من العوامل الخارجية ويرطبها بعمق. يعطي الجلسرين نعومة ويجدد ويمنع فقدان الرطوبة.
طريقة الاستخدام:
ضعي كمية صغيرة لتنظيف الوجه والتدليك برفق. لا تشطفه. يوضع صباحا ومساء.