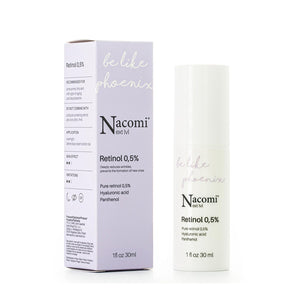 Nacomi Next Level Be Like Phoenix Retinol 0,5% Serum 30ml
the care of mature and acne affected skins, wrinkles and dark spots. With regular use, it results in firmer, more even complexion with less blemishes.
         

Reduces dark spots and wrinkles

         

Improves skin firmness

         

Brightens

         

Removes dead skin cells

         

Regulates sebum production

         

Prevents spots formation
Retinol is a form of pure vitamin A. It stimulates collagen production, exfoliates dead skin cells, supports skin regeneration and effectively fights blemishes. Thanks to its properties, retinol is your go-to ingredient to fight wrinkles, dark spots and acne. The serum contains a complex of 4 forms of hyaluronic acid, which provides an appropriate level of skin hydration. Panthenol combined with flower oil extracts accelerates epidermis regeneration and soothes irritation.
HOW TO USE:
Apply a small amount on clean, dry skin of the face in the evening. Use before applying moisturiser. Start by using the serum 2 times a week, gradually increasing the frequency.
ناكومي نيكس ليفيل بي لايك فونيك راشينال 5% سيروم 30مل العناية بالبشرة الناضجة والمتضررة من حب الشباب والتجاعيد والبقع الداكنة. مع الاستخدام المنتظم ، ينتج عنه بشرة أكثر حزما وموحدة مع عيوب أقل. يقلل من ظهور التجاعيد والبقع الداكنة يحسن تماسك البشرة يضيء يزيل خلايا الجلد الميتة ينظم إنتاج الدهون يمنع تكون البقع الريتينول هو شكل من أشكال فيتامين أ النقي ، فهو يحفز إنتاج الكولاجين ، ويقشر خلايا الجلد الميتة ، ويدعم تجديد البشرة ويحارب البثور بشكل فعال. بفضل خصائصه ، الريتينول هو المكون المفضل لمحاربة التجاعيد والبقع الداكنة وحب الشباب. يحتوي المصل على مركب مكون من 4 أشكال من حمض الهيالورونيك ، والذي يوفر مستوى مناسبًا من ترطيب البشرة. يعمل البانثينول جنبًا إلى جنب مع مستخلصات زيت الزهور على تسريع تجديد البشرة وتهدئة تهيجها.
طريقة الاستخدام:
ضعي كمية قليلة في المساء على بشرة الوجه النظيفة والجافة. استخدميه قبل وضع المرطب. ابدأ باستخدام المصل مرتين في الأسبوع ، وزد التكرار تدريجياً.