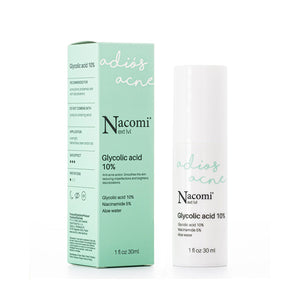 Nacomi Next Level Adios Acne Glycolic Acid 10% Serum 30ml night serum with glycolic acid designed for acne and problematic skin care. Extremely efficient against blemishes, eliminates dark spots and smoothens skin, while soothing irritation and accelerating healing.
         

Regulates sebum production

         

Unclogs pores

         

Brightens discolourations

         

Smooths skin

         

Speed up healing

         

Heals inflammations
Glycolic acid reduces hyperpigmentation, evens out skin tone and effectively exfoliates dead epidermis for smooth, clear skin with visibly fewer wrinkles. Aloe water moisturises, soothes inflammation and accelerates skin renewal, plus it has antiseptic properties. Vitamin B3 shows antioxidant properties, stimulates collagen production, fights eczema and soothes redness, while birch water cleanses the skin and regulates sebum.
HOW TO USE:
Apply a small amount on cleansed face in the evening. Do not rinse. Be sure to apply adequate sun protection while using the treatment.
ناكومي نيكس ليفيل أديوس اجين جيلوكليك اسيد 10% سيروم 30مل سيروم ليلي بحمض الجليكوليك مصمم لحب الشباب والعناية بالبشرة التي تعاني من مشاكل. فعال للغاية ضد الشوائب ، ويزيل البقع الداكنة وينعم البشرة ، بينما يهدئ التهيج ويسرع الشفاء. ينظم إنتاج الدهون يفتح المسام يضيء تغيرات اللون ينعم البشرة تسريع الشفاء يشفي الالتهابات يقلل حمض الجليكوليك من فرط التصبغ ، ويوحد لون البشرة ويقشر بفعالية البشرة الميتة للحصول على بشرة ناعمة وصافية مع تجاعيد أقل بشكل واضح. يرطب ماء الصبار ويلطف الالتهابات ويسرع تجديد الجلد ، بالإضافة إلى خصائصه المطهرة. يُظهر فيتامين ب 3 خصائص مضادة للأكسدة ، ويحفز إنتاج الكولاجين ، ويحارب الأكزيما ويخفف الاحمرار ، بينما ينظف ماء البتولا الجلد وينظم الدهون.
طريقة الاستخدام:
ضعي كمية قليلة في المساء على وجه نظيف. لا تشطفه. تأكد من تطبيق الحماية الكافية من أشعة الشمس أثناء استخدام العلاج.