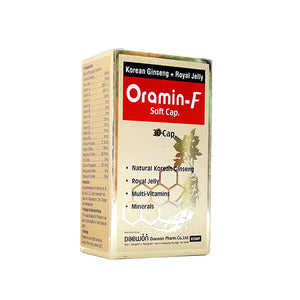 Oramin F Multi Vitamins, Royal Jelly And Gensing 30 Cap is a natural ingredient of Korean ginseng,royal jelly, vitamins and minerals that helps in human activity and vitality.
Increases sexual ability.
Supplement contains vitamins A, B1, B2, B2, B5, B6, D and C, which are important in cases: fatigue, improve blood circulation to the limps.
Useful in cases of conjunctival dryness and night blindness.
provide essential vitamines for body and increas fertility.
HOW TO USE:
The usual dosage for adults is 1 soft capsule daily.
اورامين اف ملتي فيتامين رويال جيلي اند جنسنج 30 كبسولة مكون طبيعي من الجينسنغ الكوري وغذاء ملكات النحل والفيتامينات والمعادن التي تساعد في نشاط الإنسان وحيويته. يزيد القدرة الجنسية . يحتوي المكمل على فيتامينات أ ، ب 1 ، ب 2 ، ب 2 ، ب 5 ، ب 6 ، د ، ج ، وهي مهمة في حالات: التعب ، وتحسين الدورة الدموية في الأطراف. يفيد في حالات جفاف الملتحمة والعمى الليلي. يوفر الفيتامينات الأساسية للجسم ويزيد من الخصوبة.
طريقة الاستخدام:
الجرعة المعتادة للبالغين هي كبسولة واحدة يوميًا.