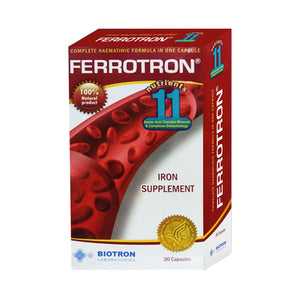 Biotron Ferrotron Iron Supplement With Nutrients 30 Capsules is one of the vitamins commonly used to treat anemia and iron deficiency for children and adults, especially pregnant women, as the pregnant mother must add iron to her diet and monitor iron levels periodically, and it is also used to treat hair loss caused by iron deficiency.
HOW TO USE:

Take one capsule daily.
مكمل بيوترون فيروترون للحديد بالمغذيات 30 كبسولة من الفيتامينات التي تستخدم عادة لعلاج فقر الدم ونقص الحديد للأطفال والكبار وخاصة النساء الحوامل حيث يجب على الأم الحامل أن تضيف الحديد إلى نظامها الغذائي وتراقب مستويات الحديد بشكل دوري ، كما أنه كذلك يستخدم لعلاج تساقط الشعر الناجم عن نقص الحديد.
طريقة الاستخدام:
خذ كبسولة واحدة يوميا.