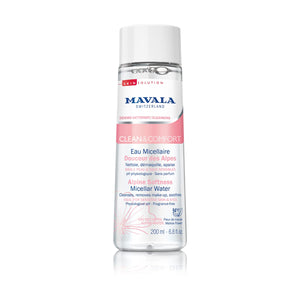 Mavala Alpine Softness Micellar Water 200ml is a dermo-cleanser mountain water, ideal for sensitive skin and eyes. It perfectly cleanses and dissolves make-up and urban toxins by gently capturing all impurities. Its fragrance and soap free formula, with physiological pH, respects even the most delicate skins and eyes.
HOW TO USE:
Soak a cotton pad with product and gently apply on face, eyes and neck, without rubbing. Repeat until cotton pad is clean. Morning and evening. Without rinsing.
مافالا البين سوفتين مسيلر وتر 200مل إنها مياه جبلية منظف للجلد ومثالية للبشرة الحساسة والعينين. ينظف ويذوب المكياج والسموم الحضرية تمامًا عن طريق التقاط جميع الشوائب بلطف. تركيبته الخالية من العطور والصابون ، مع درجة الحموضة الفسيولوجية ، تحترم حتى البشرة والعينين الرقيقة.
طريقة الاستخدام:
انقعي قطعة قطن بالمنتج وضعيها برفق على الوجه والعينين والرقبة دون فرك. كرر حتى تصبح وسادة القطن نظيفة. صباحا ومساءا. بدون شطف.