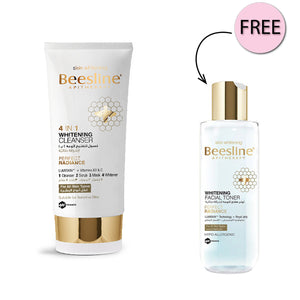 Get purer, lighter & more radiant skin with the below routine from Beesline:
- Step 1: Cleanse with 4 in 1 Whitening Cleanser An advanced formula that delivers 4 actions in 1 product; whitens, cleanses & exfoliates the skin daily while doubling as a weekly face mask.
- Step 2: Tone with Whitening Facial Toner A brightening toner that evens out skin tone & promotes a soft, luminous complexion.
احصلي على بشرة أنقى وأكثر إشراقًا مع الروتين أدناه من بيزلين:
الخطوة 1: نظفي باستخدام منظف تبييض 4 في 1 تركيبة متقدمة توفر 4 إجراءات في منتج واحد ؛ يبيض وينظف ويقشر البشرة يوميًا بينما يتضاعف تأثيره كقناع أسبوعي للوجه.
الخطوة 2: ضعي تونر تبييض الوجه مفتح يوحد لون البشرة ويعزز بشرة ناعمة ومشرقة.
BEESLINE 4 IN 1 WHITENING CLEANSER + FREE BEESLINE WHITENING FACIAL TONER 200 ML
كتير حلو وبنظف الوجه منيح