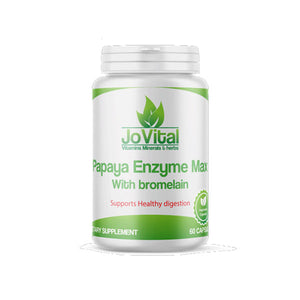 Jovital Papaya Enzyme Max 60 Capsules Containing Digestive Enzymes Including Bromelain To Support Healthy Nutrient Absorption And Daily Digestive Health. Provides antioxidants. supplies energy to the body.
HOW TO USE:
For adults: Take (1) tablet (3) times per day preferably with meals.
جوفيتال إنزيم البابايا 60 كبسولة تحتوي على إنزيمات هاضمة بما في ذلك البروميلين لدعم امتصاص العناصر الغذائية الصحية وصحة الجهاز الهضمي اليومية. يوفر مضادات الأكسدة. يزود الجسم بالطاقة.
طريقة الاستخدام:
للبالغين: تناول (1) قرص (3) مرات يوميًا ويفضل مع الوجبات.