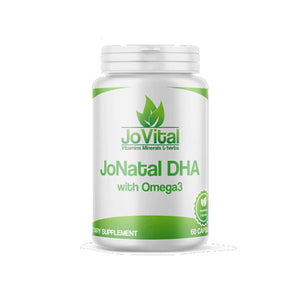 Jovital Jonatal Dha With Omega-3 60 Capsules Vitamins, minerals, iron and omega-3 are all in one capsule of Jovital, with a small capsule size, without smell and high absorption rate. Helps to maintain healthy hair, nail, mucous membranes and skin. Helps to maintain cognitive functions. Helps to form red blood cells. Helps to support normal early development of the fetal brain and spinal cord.
HOW TO USE:

Adults: Take one (1) capsule per day preferably with meals.
جوفيتال جوناتال اوميجا 3 60 كبسولة فيتامينات ومعادن وحديد واوميجا 3 كلها في كبسولة واحدة من جوفيتال بحجم كبسولة صغيرة بدون رائحة ونسبة امتصاص عالية. يساعد في الحفاظ على صحة الشعر والأظافر والأغشية المخاطية والجلد. يساعد على الحفاظ على الوظائف المعرفية. يساعد على تكوين خلايا الدم الحمراء. يساعد على دعم التطور الطبيعي المبكر لدماغ الجنين والحبل الشوكي.
طريقة الاستخدام:

للبالغين: تناول كبسولة واحدة (1) يوميًا ويفضل مع الوجبات.