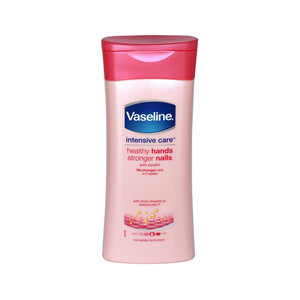 VASELINE INTENSIVE CARE HEALTHY HANDS STRONGER NAILS 200ML
With keratin, which deeply moisturises to help restore very dry hands
Absorbs fast for a non-greasy feel.

For Best results: Use daily to relieve dry skin.
فازلين انتنسف كير هيلثي هاندز سترونغر نيلز 200مل
يحتوي على الكيراتين ، الذي يرطب البشرة بعمق للمساعدة على استعادة اليدين الجافة جدًا
يمتص بسرعة لشعور غير دهني

للحصول على أفضل النتائج: استخدميه يوميًا للتخفيف من جفاف الجلد
10/10
بجنننن وبرطب بشكل ممتاز ورااائع للاظافر
بقويهم وبرطبهم
...
اكتر شي فاد اضافري وبطلو يتكسرو بجنن وريحتو حلوه
ريحته كثير حلوه بس ترطيبه ما بدوم لفتره طويله
..
مقارنة بسعره و حجمه ممتاز للاطافر
.
احسن اشي بشتريه بحياتي كلها
والله هو الوحيد اللي طوّل اظافري واعطاهم قوة، اذا بتلتزموا اسبوعين كل يوم بضمن الكم اظافر قوية وطويلة👏🏾👏🏾👏🏾👏🏾👏🏾👏🏾👏🏾👏🏾👏🏾👏🏾👏🏾👏🏾
وبرطب الايدين كمان