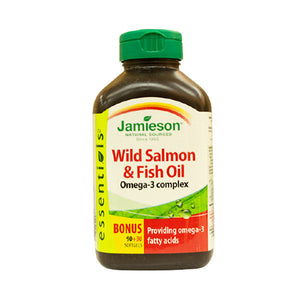 Jamieson Wild Salmon & Fish Oil Complex 120 Capsules is a blend of fish oils providing an excellent source of Omega-3 essential fatty acids EPA and DHA to support heart and brain health. This product is pharmaceutically tested and guaranteed to be free from heavy metals including mercury and lead.
HOW TO USE:
Adults: Take 1 softgel daily. Store between 15°C and 25°C, away from children.
جاميسون مركب السلمون وزيت السمك 120 كبسولة عبارة عن مزيج من زيوت السمك التي توفر مصدرًا ممتازًا لأحماض أوميغا 3 الدهنية الأساسية EPA و DHA لدعم صحة القلب والدماغ. تم اختبار هذا المنتج صيدلانيًا وضمان خلوه من المعادن الثقيلة بما في ذلك الزئبق والرصاص.
طريقة الاستخدام:

للبالغين: تناول كبسولة هلامية واحدة يوميًا. يحفظ في درجة حرارة بين 15 و 25 درجة مئوية ، بعيدًا عن متناول الأطفال.